During the coronavirus outbreak, governments worldwide recommend that you stock up on food and other essentials. You'll need at least a two-week supply of food and water, so there's no need for frequent and unnecessary grocery trips, putting you and the household at risk of the virus. 
 But of course, you wouldn't want to purchase food products that go bad in days. It's best to go for non-perishables that still provide enough nutrition for you and the family. 
 What should you add to your grocery list, though? Read on as I show you the best long-life foods to buy for a pandemic. 
The Best Long-Life Canned Foods 
Canned goods are one of the most crucial non-perishables to stock up on. These have a long shelf life that can last for years, and you aren't just limited to sardines or meatloaf! There are canned beans and vegetables to choose from as well, which can offer vitamins if fresh produce isn't an option. 
 These are the canned foods I recommend you stock up on, offering taste and nutrition: 
Canned Beans
Canned beans and chickpeas provide a lot of nutrients and are a great source of protein if you are vegetarian. Plus, you can use it in many types of meals like stews, sandwiches, and chilis. In fact, you can heat beans and chickpeas and eat them as is for a low-fat snack. 
Canned Meats 
Corned beef, luncheon meats, pork or chicken chunks, and Vienna sausages are just some of the many canned meats you can buy. They come in various flavors, either eaten straight from the can or heated to taste better or accompany dishes.
While they aren't the healthiest, they contain a good source of fat and protein, a quick fix if you aren't able to cook. 
Canned Vegetables
Canned vegetables such as corn and tomatoes will have lower quantities of vitamins compared to fresh produce. However, they are the second-best alternative if ever you're unable to come across fresh or frozen vegetables.
You can still use these as you would fresh produce, either adding it to salads or savory dishes without the worry of spoilage. 
Canned Fruits 
Canned fruits can either be soaked in sweet syrup or dehydrated, still containing the vitamins and minerals you need. However, be wary with the liquid that surrounds the fruit, as the strips tend to be heavy on sugar and filled with empty calories.  
Canned peaches, pineapples, or even canned berries and fruit medleys make a great snack! 
Canned Fish 
Tuna, sardines, or salmon are some of the more popular canned goods for its many benefits. They contain protein and an abundance of nutrients, such as vitamins, minerals, and omega-3 fatty acids.
You can either use these for salads, sandwiches, pasta dishes, or as a viand to heat up for a warm meal. 
Canned Sauces 
No time or ingredients to make sauces from scratch? You can find cans of different types of sauces, whether you need pasta sauce, pie fillings, tomato paste, pizza sauce, or even jellied fruits!
No need to stock up on a lot of fresh ingredients for sauces in the meantime, which takes up a lot of space and would spoil easily. 
Canned Meals 
There are also ready-to-eat canned goods that act as the main course. Canned soups, spaghetti, or even canned rice can be consumed upon opening. 
 All you need to do is heat it (if you can or want to) and start munching! I don't recommend that you consume and depend on such quick meals every day, though. 
Also Read:15 Long Shelf-Life Canned Foods for Prepping Storage
The Best Meals Ready-to-Eat (MRE)  
If you're not familiar with what MREs are, these are operational food ration given for the US Armed Forces. These are beneficial because these are complete meals, taking the job of cooking away.
Furthermore, they are high in nutrition with a long shelf life, easy to store as it comes in boxes or packets.  
You can purchase these MREs online: 
Note you can click on the link to check the price on amazon.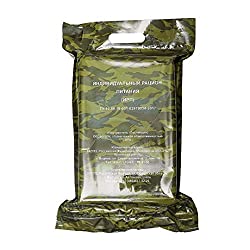 IRPRUS MREs are military-grade based on the Russian Army's food ration packs, which are nutritious and long-lasting. Each waterproof and UV-resistant pack contains 3,700 calories and all-natural ingredients, having authentic flavors and balanced meals suitable for the entire day.
All meals have been tested and are currently being used by the Russian military. 
 Captain Dave's MRE comes in a package of six different main entree dishes, focusing on chicken and beef. Each main entree contains complete nutritional information and the fresh production, timely to prepare for today's pandemic.
This is suitable for households that only require protein-rich viands for quick lunches and dinners. 
 The XMRE Main Entree is authentic and US military-grade, made in the USA to ensure quality and nutrition. There are five different meal options, all of which are fully cooked and contain 370 calories per pack. You don't require water, all you need to do is to open the pack and consume immediately. 
 Water is an absolute essential and in case of an emergency during the pandemic, DATREX Emergency Water Pouch is a good investment. This is emergency purified water lasts for five years, each pack coming in 12 sachets containing 125ml each.
It has been approved by the Canadian Coast Guard, as well as the EC and NZ. 
 The Survival Tabs are interesting space-savers and meal replacement in the form of cubes, best made for "just in cases." It offers a huge amount of nutrition and calories at the smallest possible volume, supplying the body with essential vitamins without the hassle of cooking an entire meal.
Each gluten-free and non-GML MRE pack contains 15 essential vitamins and minerals, with high-quality protein. 
 Ozark Outdoorz LLC2020 is made in the USA using US military-grade components without the need to refrigerate. The package comes in a pack of six different MRE flavors, all of which have printed nutritional information on each pack.
All bags contain nutritious and fully-cooked meals with an extended shelf life of up to five years. 
 The Long Life Food Depot MRE Beef and Chicken Entrees contain 18 pouches of the following: 
ThreeBeef Stew

Three Spaghetti with Beef and Sauce

Three Beef Ravioli

Three Chicken Chunks

Three Mexican Chicken Stew

Three Chicken and Noodles
Nutritional information is printed on each bag and is easy to prepare and consume. 
Also Read:Best MRE Meals for Survival and Emergency Situations
The Best Long-Life Dry Foods
Dry food is longer-lasting, having longer shelf life compared to refrigerated food. You can store it outside, leaving your room for important items made to place in the fridge. Furthermore, most dry foods are filling, having enough carbs you need to sustain yourself and the household. 
 Consider stocking up on these dried foods: 
Note you can click on the link to check the price on amazon.
 The AlpineAire Strawberry Granola with milk is a great breakfast choice, simply mix the granola with hot water and it's ready to consume. It contains two servings, with each serving containing 720 calories and 26 grams of protein.
With each pouch weighing 6.5 ounces, it stores easily and comes the complete nutritional information printed on it already. 
 Backpacker's Pantry is non-GMO and gluten-free, catering to both vegetarians and vegans with high protein content. Made with brown rice, lentils, potatoes, peas, carrots, mixed with a curry seasoning.  
 Simply remove the pouch's oxygen absorber and add boiling water, stirring well and letting it sit before consuming.  
 Thrive Life FUJI Apple Snackies are suitable as a snack, with the company using apples grown from the Pacific Northwest. There are no artificial ingredients, added sugar, preservatives, and it is non-GMO, as well as being dairy and nut-free. Made in the USA, each pouch contains over a cup of freeze-dried Fuji apple slices.
 Mountain House Beef Stew offers an extremely long lifespan and easy preparation, made with natural beef dices, peas, carrots, and potatoes. It can last for up to 30 years and still taste the same, freeze-dried to lock in its freshness and nutrients.
Simply add water in the pouch for ten minutes and consume right out of the pouch! 
Peak Refuel Beef Pasta Marinara 
 Peak Refuel is made in the USA, from its freeze-drying process to packaging. It contains 650 calories per serving and 49 grams of protein per pouch, containing real meat without meat fillers.
They have natural taste and texture after preparation, with the freeze-fried pasta being ready to eat from the pouch after pouring boiling water to the mix. 
 Nomad Nutrition prides itself on offering 100% vegan freeze-fried food filled with plant-based vitamins and protein. It's made with organic ingredients without preservatives or chemicals, being free from gluten, dairy, nut, and palm oil.
It has a shelf life of up to three years thanks to its new REVdry method, ensuring that all vitamins and nutrients are locked in their meals. 
 Also Read:The Basics of Emergency Food Storage and Resupply
What Fruits and Vegetables to Dehydrate
Fruits and vegetables are perishables that can last for only up to a week at a time. However, you can dehydrate whole produce, which can have them last longer and still taste great. Plus, you can rehydrate them again later on when needed!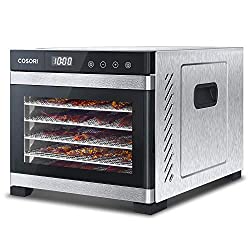 When you have a dehydrator, here are the top foods you can try out: 
Fruits 
When one thinks of dehydrating food, the first thing that pops in mind is fruit. Dehydrated fruits such as raisins are such a popular snack that you can add in salads, granola, trail mix, desserts, among other dishes. 
 Here are the common fruits you can dehydrate: 
Grapes

Apples

Pineapples

Pears

Plums

Figs

Berries

Bananas

Peaches

Cherries

Melons
 When you dehydrate these fruits, be sure to soak them in a solution that limits bacteria and prevents the fruit from darkening. You can create a citric acid solution by mixing one-part lemon juice and one-part water. 
Vegetables 
You can dehydrate a variety of vegetables, such as: 
Carrots

Tomatoes

Greens

Beets

Squash

Beans

Onions

Celery

Peas

Pumpkin

Broccoli

Corn
 And you can reap great results form it! Before you dehydrate these vegetables, do blanch them briefly (except for mushrooms, tomatoes, and onions). Furthermore, store them in a tightly-closed container in areas that are dry, cool, and dark.  
 You can consume these dried vegetables as chips for a healthier snack alternative. Or, you can use it for main dishes such as stews and soups. 
Meats 
You can even dehydrate meat to make into jerky, a popular and filling snack with good protein content. To avoid any risk of food-borne illnesses, you should use lean meat that's been precooked.
 Make beef jerky by boiling the beef and coating it with your sauce mix. Bake at a lower temperature for four hours and you can store it for later consumption. 
 You can also dehydrate pressure-cooked chicken, cooked shrimp, deli meats, ground beef, or canned goods like tuna or chicken.  
Sweets 
Other times, you can dehydrate snacks for it to last longer and taste better, depending on your preference. Avoid risking food spoilage for certain snacks, try dehydtrating trail mix.
 You can dehydrate yogurt, bagels, marshmallows, or even baked desserts such as packaged cake. Reydrate these sweets as needed.
 If you have time, bake a pie or create instant pudding or porridge, which you can dehydrate for later consumption. There are a lot of dessert recipes one can dehydrate online. 
Wrapping It U
p
Hopefully, these lists of the best long life foods gave you an idea of what you need to purchase in preparation for the pandemic. Begin listing your necessities down for the next scheduled grocery trip now. 
I know its not practicle to live solely on these foods but they should be an addition in every household. What I like to do is gradually build up these items, purchasing some with every shop.
 Would you like to ask any questions about the best long-life foods or share your suggestions on what non-perishables to get? Share it in the comments section below, we would love to hear all of your input. 
You May Also Like :

How Long is Canned Food Good for After Expiration Date