Camping in the rain shouldn't be a tall order for you regardless of whether you are a rookie or a veteran. The fact that the weather is not favorable does not mean you cannot have fun. The secret of camping in the rain is having the right gear and preparing yourself well for the adventure. There are fun parts and hacks to learn in our guide and we can't wait to give you the lowdown. But before then, check out these 15 surefire tips for camping in the rain to make your adventure even more memorable.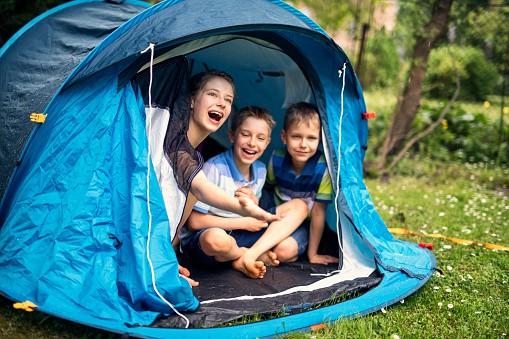 1. Have your checklist right
Invest in a high-quality tent: Having a tent is one of the must-have requirements if you planning to go out camping during the rainy season. However, not every model out there is ideal for your camping needs. To be on the safe side always make sure you go for exceptional quality tents that are waterproof and can withstand heavy rains.
Also, know how to set up your tent properly to avoid wind or water from finding a way inside. It can be awful to spend money on a quality tent only to get disappointed when the rain pours simply because you do not know how to set it up. Even if you have used tents before, do not assume. Manufacturers keep on changing their designs and you may encounter some challenges so no need to take chances.
Get enough plastic bags
Plastic bags help you get organized and keep your stuff protected from the rain. Be it food, important gear, electronics, dry clothes, and any other item that can be damaged by water, plastic bags come in handy. Also, they can be used as trash bags when needed. Get enough; it's better to have more than to have a shortage. So pack as many pieces as you need.
Backpack cover (waterproof)
Having plastic bags is not enough to protect your items. A waterproof bag cover can save your packed items from getting damaged by water or rain should it rain. It'll act as an extra layer that completely covers your backpack.
Ready food and uncooked food that can be prepared without cooking
Next in our rain checklist is food. Sometimes the rains may be so heavy or you may be so tired that you cannot kindle the fire and prepare something to eat. Having snacks or uncooked food that can be prepared without cooking can save you during such times.
Waterproof flashlight
A waterproof flashlight will save you the stress of having to walk in the dark or look for items all over during the night.
Rainproof pants
Rain pants will keep you dry in case it rains when you are out on your camping adventure.
Cooking stove
A cooking stove is one of the items you should never forget when going out camping and especially during the rainy season. Cooking stoves are a lifesaver especially when the conditions outside do not allow you to kindle fire.
Enough clothes
During the rainy season, there isn't enough sunlight to dry your clothes. So you need to pack more than enough since some may get messed up by mud or may get stained. Also, hang wet clothes so they get dry.
Synthetic socks
Keeping yourself warm is the key when camping. Make sure you have packed enough synthetic socks to last you for the entire camping period.
Camera
Bringing your camera is one of the great ways of capturing those fun moments. However, during the rainy season, you need to be vigilant when going out with your camera since water may damage it beyond repair. When going out with your camera always make sure it is covered with a rainproof cover.
Dry firewood
Kindling fire during the rainy season can be challenging but with dry firewood, you can prepare meals faster. You may not plan on trying to start a fire in the rain, but you'll want dry wood for a fire after the rain (hopefully) stops.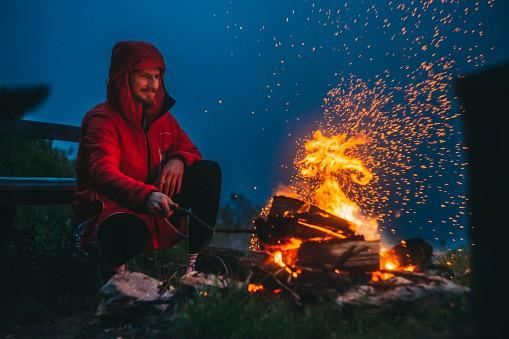 Carry newspapers
Newspapers are great for starting your fire. They can also be used to wipe your shoes off the dirt and bringing them along will make your life easy.
Toothpaste and toothbrush
Nobody would like to associate with you when you have bad breath. Dental hygiene is critical even when you are out camping.
Portable camping shower
When out camping you will sweat a lot. The mistake most people do is to apply deodorant when they haven't even showered, and go out smelling lousy. But by the end of the day, a camping shower is the best way to stay clean and refreshed. Maintaining poor hygiene during camping will not only make you feel fatigued but also cause discomfort for others.
Throwing your favorite deodorant can spice up things and make you feel confident after a shower. So, be sure to carry these items on your upcoming camping trip whether it's a tent or car camping. The camping gear help you in wet ground and cold weather.
2. Have the right gear
Camping during the rainy season can mess you up big time especially if you do not have the right gear. That's why most people complain about it not being fun but it doesn't have to be that awful. To save yourself from the distress of coldness and wet clothes, make sure you arm yourself with a raincoat and waterproof boots.
3. Setting up your tent
One of the first things you need to do is to look for a perfect place to set up your tent. If you had familiarized yourself with your tent, setting it up shouldn't be a big deal. Most people tend to look for a flat area which in this case could be risky in an event of a heavy downpour. The reason why flat areas aren't good for your tent is due to the fact that rainwater tends to flow down and reduce its speed increasing the chances of flooding.
To be on the safe side it is highly advisable to look for a raised place and particularly on top of a small hill.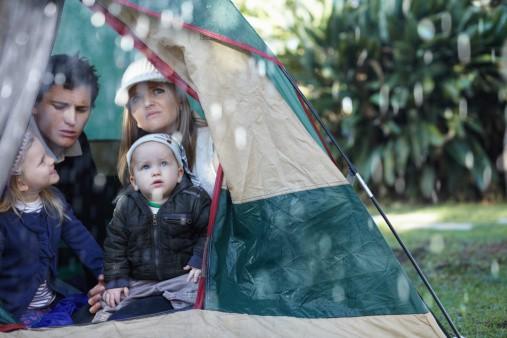 4. Keep off trees
Setting your tent near trees during the season is risky. By nature trees usually collect more water during the rainy season which makes the branches a lot heavier increasing the chances of falling off. This can cause a lot of damage to your tent and even injure you.
Worse still; if lighting strikes the trees you can be at risk. Trees should not only be avoided when setting up your tent but also should not be used as shelter especially during thunderstorms.
5. Dig small furrows
The fact that you have set up your tent on raised areas does not mean flooding can't occur. Digging small furrows will help channel rainwater away from your tent preventing any chances of water from accumulating around the tent. Do not wait until it starts raining to dig the furrows. All the preparations should be done early enough to prevent any distress.
6. Put a strong tarp beneath your tent
Placing a strong tarp beneath your tent is another great way of preventing water from finding its way inside your tent. When putting your tarp, avoid exposing some parts out from beneath the tent as this will make your tent floor absorb water.
7. Add more lining to your tent
When it rains chances of moisture finding its way inside are high. Adding another lining can help navigate through this providing you with a friendly sleeping environment.
8. Keep yourself warm
Temperatures tend to go down especially during the night. This is where your extra sleeping pad comes to your rescue. Thicker materials are highly recommended. Place your sleeping pad under your sleeping bag each time to keep you warm.
9. Never take chances
If the rains take the best part of the day, it is not recommended to walk outside as water volumes may overwhelm you. You can decide to spend the entire day carrying out fun activities. And below are some of the fun activities you can take advantage of.
Fun activities for camping in the rain
Singing: If you love songs, you can take part in a singing competition. Singing can help you forget your worries, liven up your mood and keep your brain engaged.
Sharing stories: If you have kids you can share some of your childhood stories to keep them engaged. Bringing your kids toys is also another great way of keeping them busy.
Read a book: For those who love reading carrying a book with you can kill the boredom as you wait for the rains to stop.
Playing cards: Bring your deck cards and enjoy hours of endless entertainment with your loved ones.
Watch a movie: If you are a fan of movies watching your favorite movie can spice up your day especially during cold rainy days.
Take a walk: If you don't feel like engaging yourself in the above fun activities, taking a walk to the nearest town can help refresh your mind.
Bring with you drawing materials: If you love art you can bring some drawing papers and engage in a drawing competition, or share stories with friends to kill time.
Take a nap: Nothing can be relaxing like taking a nap when it's raining. So if you don't feel like getting yourself engaged with the above-listed activities, why not take a nap.
10. Make sure your tent is well secured when going out
Before going out for an adventure make sure your tent is well secured to prevent damage by rain. Even when the weather looks favorable it is a great idea to loosen the guy lines, lower window flaps and zip your door.
11. Be prepared
Camping during the rainy season can be tricky because you cannot predict with certainty when it's going to pour. So you do not have to take chances even when the skies seem so clear. One way to avoid getting caught up unaware is by following weather updates within the locality.
Before you set your foot out make sure you have checked out for Google weather updates. Keep track of time and take precautionary measures before the rain starts.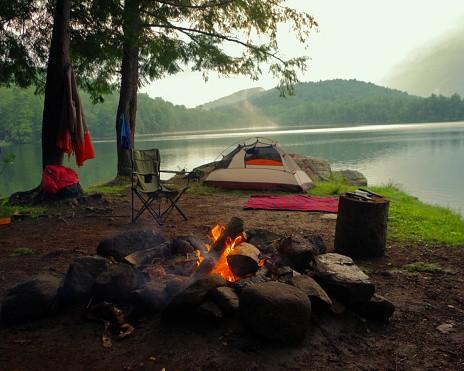 12. Have fun
When you are sure everything is properly organized you can go out and have fun. Do not forget to carry your waterproof pants, rainproof shoes and a raincoat with you. Remember the trick for camping in the rain is to stay dry while having fun. Carry some food and drinks enough to sustain you for the time you will be away.
Wet feet are another way to quickly feel miserable out on the trail. Although waterproof shoes and waterproof boots can be expensive, if you've ever hiked with waterlogged feet, you'll understand that the extra expense is definitely worth it. Also, it'll keep the tent dry space when you enter via the tent door under the rain fly.
13. Do not forget your first aid kit
It is not good to take chances. During such times the ground is extremely slippery, and the fact that you have non-skid shoes does not mean accidents are not bound to happen. When packing your items ensure some items like the first aid kit are kept near where they can be accessed faster. Avoid walking fast to prevent any chances of losing stability.
14. Dry your wet clothes
Never store wet clothes as moisture will damage the fabric making it even hard to clean. Set up temporary cloth lines and hang all your wet clothes. Keep checking them to remove the dry ones to prevent them from being rained on.
15. Keep your hygiene in check
Just because it's cold and raining does not mean you go for days without taking a shower. Women are even more susceptible to infections when proper hygiene is not observed. Make use of your portable camping shower and set up a tent for your privacy.
Cooking in the rain
Never at any given time cook inside the tent regardless of how heavy the downpour is. At such times, that's where your ready food comes in handy. If you do not have enough, you can prepare the uncooked food which does not require cooking.
In case you plan to cook, it is highly recommended you do it outside. But this can be at times challenging especially when the rains are heavy. Most people get tempted to set up canopies to shield the fire from the rain but this can be risky as your canopy may catch fire.
The best way to approach the situation is to wait until the rains are light and set up your cooking area.
Tips for starting a fire in the rain
Starting a fire with wet wood can be tricky during the rainy season. But that is not a reason enough for you to starve or blame the rain. There are different ways you can approach the situation and kindle your wood faster.
Store your wood properly: Wet wood can be challenging to use. One tip for starting the fire and keeping it burning for long is keeping your wood properly away from water or wet items. Using your regular igniters or matches may seem next to impossible. To save yourself from stress, always use stormproof matches.
Keep the fire burning: Cooking on a windy day can also be a pain in the ass and it may be challenging to maintain a constant flame.
To prevent strong winds from blowing out your fire you will have to set up a windbreak. Make use of your Tarp and tie it on a couple of trees. Positioning yourself on the right side of the fireplace can also help prevent strong winds from blowing it out.
Make use of your camping stove: When the above tricks do not work out for you then you can make use of your camping stove. Avoid gasoline stoves and use propane models instead.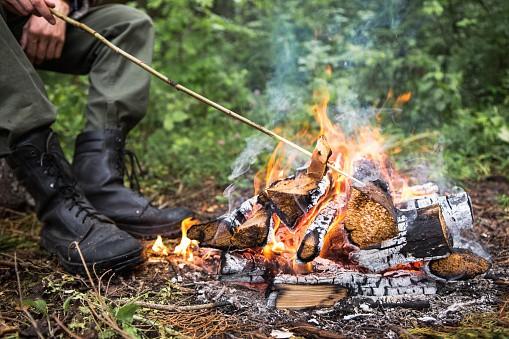 Tips for camping in the rain with kids
Camping with kids shouldn't be a challenge. All you need is to master these tips and you are good to go.
Stay warm: One big mistake you can do when you go camping with kids during the rainy season is failing to dress them for the weather. Make sure you have enough clothes to keep them warm.
Do not ignore hand warmers: Dressing your kids does not only mean putting on warm clothes but also getting them well covered. This is where the warmers come in handy.
Do not yell at kids: Kids love to get messy and may get tempted to play around with rainwater. This can mess up their clothes forcing you to change them often. But this shouldn't be a reason to overreact to your kids but rather handle the situation properly.
Keep them close: Holding your kids can help minimize any chances of them playing around with water and even getting messy. Keep them engaged during the day with fun outdoor activities.
Tips for camping with dogs
There are a thousand reasons why you should never leave your dog behind when camping. Though some people may feel like a burden, bringing your pet with you can make your adventure even more fun. Better still; you do not have to worry about your pets when you are away. To make the adventure exhilarating, check out these tips.
Do your research well: It can be disappointing for you to travel all the way to have fun only to realize that your campsite does not allow pets. This can be awful right? The best way to avoid all this is to conduct your research and make sure the site you choose authorizes camping with pets.
Pack enough pet food: All the jogging around and hiking drains a lot of calories and your pets are not an exception. Make sure you pack more than enough food for your dog depending on the time you are planning to spend on your campsite.
Pet clothes: Packing enough clothes for your pet helps keep your dog warm throughout the camping period. A pet waterproof coat and waterproof pet booties will keep your dog warm when taking a walk.
Design a pet tag: Never take chances when camping with pets. Sometimes they may decide to sneak out to your neighbors which can make it hard for you to identify your pet. The tag should contain the name of your pet, your campsite number, and your phone number.
Pet Tent: Your pet deserves a treat especially during the rainy season or else you may be forced to spend money on veterinary services due to mistakes that could be avoided. This is why bringing your pet tent is a great idea for making your dog feel at home.
Pet camping bed: Your dog's camping bed should not be left out regardless of the weather. And now that you are planning for an adventure with your pet, bringing a waterproof pet bed is a great way of keeping moisture and water at bay. Making use of a sleeping pet bag will offer your dog a sleep-friendly environment.
Collapsible pet bowls: You definitely can't feed on the same plate with your dog. Bringing with you collapsible pet bowls will give you peace of mind when serving meals for your pet. The bowls should be of good quality with waterproof properties to prevent water from finding its way into your pet's food.
Poop bags: Pets can be messy, and since you do not need to spend the entire day cleaning investing on poop bags will save you time. Taking advantage of biodegradable bags will help do the environment a favor.
Pet first aid kit: When camping with your pet mishaps can happen. Packing any medication and first aid kit will enable you to attend to your pet when need be. Also, do not forget to carry your pets tick control drugs to help prevent any infestations.
Adjustable pet leash for camping: Leaving your pet to roam around in the neighborhood may not be welcomed by everyone even if your pet is friendly. Investing in a quality extendable pet leash will allow you to adjust it and secure your dog from wandering.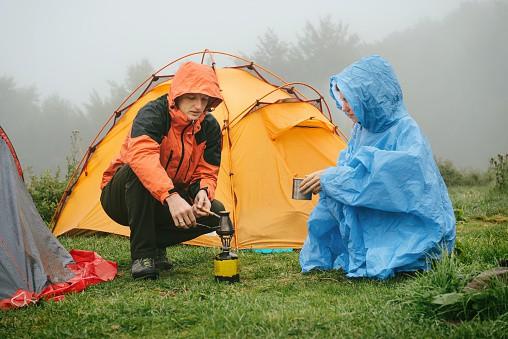 Fun activities to do when camping with dogs
Cycling: Cycling with your pet can be more fun than doing it alone. To make it even more enjoyable. You can either tie your extendable pet leash on the back wheel to help keep a distance from your pet and your bike or invest in bike baskets for dogs.
Hiking: If you love hiking this is definitely one of the fun activities you can enjoy with your pet. But before you plan to go out hiking ensure your dog has a leash. In case you are planning to walk for long distances, ensure you have dressed your pet properly and you have your pet raincoat even when the weather seems favorable. Do not forget your dog's little booties.
Taking a nap with your dog: If you don't feel like going out or probably the rain hasn't stopped, taking a nap with your dog can help you relax your mind as you prepare for the next adventure in inclement weather.
Tip: Forests, grass, and wood are good breeding areas for parasites. Always make sure you have treated your pet before going out for a walk, camping or even hiking.
Things to avoid when camping in the rain
Avoid bringing cotton clothes. Though they are good for keeping you warm, they will take longer to dry.
Never cook inside your tent unless it's of high quality and can withstand the heat
Avoid using gasoline stoves at all costs in rainy weather
Avoid pilling your wet clothes. Always leave them on the cloth line to dry.
Never ignore your body signs. Our bodies do not respond the same way when subjected to the same conditions. If you or anyone complain of fever or shows any signs of excessive shaking, you should seek medical assistance.
Final Verdict
A rainy day may make the conditions outside unfavorable but it should not be a reason for your camping trip to get ruined. Waterproof gear and rain-resistant clothing are must-have requirements for keeping you warm and dry. Bringing along a quality tent will help keep your sleeping area free from water. Also, camping rain gear is essential in wet weather because wet gear will lead you nowhere.
Camping in the rain means having all it takes and our guide has all that you need to have fun. If you follow all the tips and hacks we have provided you should not experience any challenges when camping.

James Barton
Hi, I'm James. I am the founder and main editor for The Survival Corps. I have been a part of the survival and prepping community since my mid 30's as I downsized and started to prepare to be self sufficient in a time of crisis.