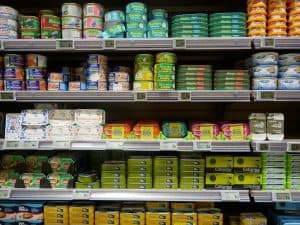 One of the basic needs for human is food. But some run into trouble when making their choices. So whether you are prepping for your camping, emergency, or any natural disaster, you need to be vigilant on the type of food you go for. Having these best canned food for survival will get you started nicely.
But most people hit a snag when trying to figure out the best foods to buy. In case you may be wondering which foods to include in your list, here are 15 longest lasting canned foods for prepping storage you can take advantage of. But before we give you the lowdown, here are the benefits you would enjoy from canned foods.
Benefits of the best canned food for survival
Incredibly long shelf life
You will be surprised how long canned foods can last you. Some will last between two to 30 years while others will last you longer than this. This makes them a great source of nutrients during a disaster and low food supply.
Healthy
Canned foods are regulated by the FDA to make sure all the industry standards are followed to the letter. Though manufacturers may add fat, salt, and other preservatives to increase the shelf life, the levels are regulated to make sure they are not a threat to human life. However, when shopping, you should check out the ingredients used to prevent any allergic reaction.
Convenient
With canned food, you do not have to worry about freezers or any emergency. Under normal storage conditions, these food items can last you for long.
Affordable
Having Canned food for survival is way cheaper than fresh foods. Better still; the cost reduces when you purchase in bulk, which means you will save a few bucks.
Now that you know the benefits of canned food for survival, here are 15 of the longest lasting and best canned food for survival.
Top 15 Best canned food for survival
1. Honey
Honey is one of the foods that can last forever without going bad. This is due to its low water level and high acidity levels, which prevents any bacteria from growing inside. Even when the sell-by date expires, you can rest assured that your honey is fit for consumption.
---
2. Powdered milk
Powdered milk is one of the great sources of proteins, and you can't afford to miss several cans in the store. The milk can last for 20 years without going bad. However, the nutritional content is said to decline by 20% each year.
---
3. Canned Fish
Under proper storage conditions, canned fish can last you for up to three years. However, the shelf life will reduce drastically for opened cans. Fish is perishable, and any opened canned should be stored in a freezer to prevent it from going bad.
---
4. Lentils
Lentils are easy to prepare and an excellent source of fiber. Having several cans in-store will keep you nourished. Canned lentils can last you up to 5 years.
---
5. Fruits
Canned fruits are a great source of vitamins and minerals. The cans feature different fruit types, which gives you the freedom to choose your preferred type. Under proper storage temperatures, canned fruits can last up to 2 years. They come in handy during low food supply and outdoor adventure.
---
6. Instant coffee
Coffee is one of the items you can't miss for your prepping. Its shelf life is incredible and a great way to stay energized. Instant coffee can last you up to 10 years so you can rest assured you have hot beverage anytime you need one.
---
7. Powdered eggs
Most people don't know whether powdered eggs exist. You will be surprised that canned powdered eggs can last you up to 7 years. It is a great choice for preppers and a good source of proteins.
---
8. Spaghetti
Through spaghetti can be packed they also come in cans. So for those who love pasta, this is an excellent pick for you. Dehydrated pasta products can last you from 8 to 30 years, which is excellent enough during low food supply.
---
9. Beans
Beans are a great source of proteins, vitamins, and anti-oxidants. When consumed, beans will make you fuller for a long time while giving your body the energy it needs. Beans can last you up to 30 years or more depending on storage conditions.
---
10. Chickpeas
Canned chickpeas just like lentils are a great pick in times of disaster or low food supply. They come when ready-cooked, which makes them an excellent choice, especially when you do not have time to cook.
---
11. Pemmican
If you love meat and would like to have a treat of the wild meat, then pemmican could be a great choice. The meat is traditionally prepared by drying it on fire. Flavoring and fat is then added to enhance its taste. It comes in different types which allow you to choose one that matches your needs.
---
12. Corn
Dried corn is easy to cook and can last up to 10 years.  Even after this period, it will remain safe to eat.
---
13. Cheese
Cheese can last you long, especially when stored under the right conditions. When unopened, a can of cheese soup can last you between three to five years. However, it can last you long after the expiry date.
---
14. Carrots
Carrots are one of the vegetables which last long under right storage conditions. But getting dehydrated carrots can last you up to 25 years.
---
15. Tomatoes
Just like any other food item, vegetables can cost high, especially during low supply. And due to their high perishability, it will limit you to buy in bulk. Canned tomatoes come in handy when prepping for a survival treat.
---
Conclusion
Keeping your pantry stocked with these best canned food for survival may in fact save you and your family one day. Starting your prepper pantry can be very easy, just don't get in a hurry and buy what is on sale. Doing this you can pick up some canned food for survival each week on your shopping trips. As you stick to these longest lasting canned foods you will see that you pantry grows effortlessly.

James Barton
Hi, I'm James. I am the founder and main editor for The Survival Corps. I have been a part of the survival and prepping community since my mid 30's as I downsized and started to prepare to be self sufficient in a time of crisis.