Have you ever asked yourself how important an air mattress is in your survival gear? I guess you have. Otherwise you'd not be looking for answers in this post. The last thing in a prepper's mind sometimes is good rest and sleep. Yet sleeping arrangements are important parts of your survival plan if you must come out victorious from the survival situation.
You cannot talk of a complete survival gear without including an air mattress. It offers the most appropriate way to avoid the dangers of sleep deprivation. Since you cannot carry the bed you use in your home to a shelter prepared for crisis or to a camping tent, an air mattress is a better alternative. It can offer you the closest sleeping experience to the one you daily enjoy at home.
As a good prepper, you must beware of sleep deprivation. It can interfere with your cognitive functions and increase irritability. You would not be as vigilant and as energetic as you should. This will definitely interfere with your ability to make the right decisions for successful survival.
So, how can an air mattress help?
Let's examine some of the benefits of including an air mattress in your survival gear.
1. Good Comfort Level
Imagine the experience you'd have with a beach prop. It offers fun and gets you tanned while floating on the tantalizing beach sun. You can transfer that experience outdoors in the wilderness. An air mattress is firm. The firmness provides support for your body to deliver high comfort levels.
The modern models are even better. Their interior is fitted with air chambers to simulate the springs of a regular mattress. The air chambers provide even more support to your body. The higher the number of chambers the better the support it provides. Keep this mind when shopping for an air mattress. Aim for at least 30 air chambers.
2. Lightweight, Compact and Easy To Pack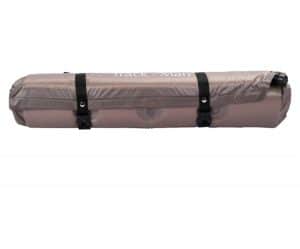 One of the most important properties of a good survival gear is lightweight. Items you pack should be as light and sturdy as possible.
An air mattress qualifies in both aspects. It is designed to pack small. You can even carry a twin size without using too much space or adding to much weight. The compact size and lightweight also means you can move the airbed inside your shelter effortlessly.
3. Great For Your Safety
Your safety should not take the backseat simply because you are in a survival situation. In fact, safety should be your foremost concern. Unlike another mattress, this kind is made from fume deterrent materials. It will not catch fire even if you accidentally drop fire on it.
This type of mattress is also constructed from fume-free material. Dangerous fumes come from chemicals gassing off from the material used in the construction of ordinary mattress. In a shelter with poor ventilation, such fumes can pose health risks to the user.
Pay close attention as air mattresses made from PVC might gas-off dangerous fumes. High quality air mattresses are made from BPA-free plastic or non-plastic materials. The very best models are those made purely of textile material. The only problem is that few brands have embraced this technology. It is rare to find an air mattress made of textile. If you do, it would definitely be more expensive that models made from plastic.
4. Versatile Power Source
Are you worried about how you will inflate the air mattress? You need to keep in mind the electricity supply may not exist. But even if you have one, it may get interrupted at any time. High quality air mattresses are extremely versatile when it comes to power source. You can inflate such from an electric power source, batteries or even manually with leg pump.
Not all brands make such versatile air mattresses. Therefore, you must be careful when shopping for this survival gear. Be keen to buy a model that is operated either manually or via battery. You will have a survival airbed that is self-sufficient.
5. A Multipurpose Survival Gear
One of the cleverest survival tricks is to pack multipurpose items. This will greatly reduce the weight of the survival pack you'll have to carry. Furthermore, you will also be able to pack most, if not, all the necessary items for successful survival. One of the most beautiful properties of an air mattress is the fact that you can use it for multiple functions.
The primary purpose of this item is to provide you with support during your sleep in your tent, shelter or even open ground. However, it can do more than that if you find yourself near a water body to cross. Since air mattresses are air proof, they are buoyant. You can therefore deploy your airbed to use as an improvised water source.
To steer it to direction, simply improvise some wooden pads. However, be sure to steer clear from fast flowing waters. The same goes for very deep waters.
Another interesting way to use an air mattress in a survival situation is as a waterproof covering device. You can use it for this purpose if for some reason it gets perforated and you cannot use it anymore. Simply fill it with natural items you will find in the wilderness such as dry plant leaves, grass, moss or straw and still use it as a bed.
6. An Insurance against Sleeping In The Cold
Some beginner preppers might have questions whether it is appropriate to add some "leisure" to your camping trip or survival scenario. I would say an air mattress is a necessary item not a leisurely item when it comes to survival. What will happen to your body of you do not have an adequate rest and sleep due to poor sleeping conditions?
Imagine having to contend with daytime sleeping while in the wilderness due to sleep deprivation. Without an air mattress, you may have to sleep on the cold ground. You will risk losing your core body temperature with catastrophic consequences. Hypothermia is a major problem preppers contend with in the wilderness if they do not properly insulate themselves from cold.
Final Verdict
You can see the many important reasons for having an air mattress in your survival gear. Good sleep is important if you want to have a successful survival scenario. The best item to solve this problem is an air mattress. As long as you can get the best air mattress, you can always be sure to enjoy the many benefits we have discussed here.

James Barton
Hi, I'm James. I am the founder and main editor for The Survival Corps. I have been a part of the survival and prepping community since my mid 30's as I downsized and started to prepare to be self sufficient in a time of crisis.